Instagram: http://instagram.com/womenonthefence

DATE: 10/26/16

WOMEN ON THE FENCE
Works by Women, for Women
Desert Hot Springs, CA, November 5, 2016– WOMEN ON THE FENCE (WOTF) is a one-day paper show of radical LA artists in conjunction with the three-day women's festival and retreat: MOTHERSHIP, brought to you by HER/LA, and curated by Hayley Barker and Andrea Marie Breilling.

WOMEN ON THE FENCE: This one-day art show will feature the work of over 30 feminist women artists from Los Angeles. Works will be hung outdoors on the chain link fence that demarcates the interior space of the MOTHERSHIP festival.
MOTHERSHIP is a three-day outdoor festival for women that features feminist and queer-friendly music, workshops, camping, and community.

Artists in WOTF include: Lilly Aldriedge, Shaga Ariannia, Sarah Awad, Hayley Barker, Andrea Marie Breilling, Anna Breininger, Tanya Brodsky, Virginia Broersma, Sally Bruno, Sara Chao, Sara Clendening, Carrie Cook, Alika Cooper, Akina Cox, Nikki Darling,Yasmine Diaz, Sarita Dougherty, Catherine Fairbanks, Nikita Gale, Rema Ghuloum, Sarah Gilbert, Meghan Gordan, Trulee Grace Hall, Kyla Hansen, Melissa Huddleston, Angie Jennings, Kara Joslyn, Molly Larkey, Sophie Lee, Clare Little, Tiffany Livingston, Kristy Luck, Annelie McKenzie, Erin Morrison, Megan Mueller, Erika Ostrander, Lauren Quin, Rachel Roske, Nancy Stella Soto, Shanna Waddell, Julie Weitz, Suné Woods, Lindsay Preston Zappas.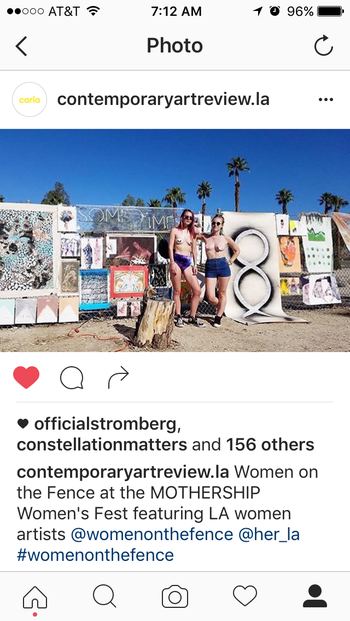 Thanks Carla!
A few shots from our show in Desert Hot Springs... at HER/LA's Mothership Festival.